Boffons (transcribed for clarinet) (PDF)
Van Eyck
Boffons 'Der Fluyten Lust-hof'
(transcribed for clarinet)
Encore 15
Released date: 2023
ISBN 9 790803 760263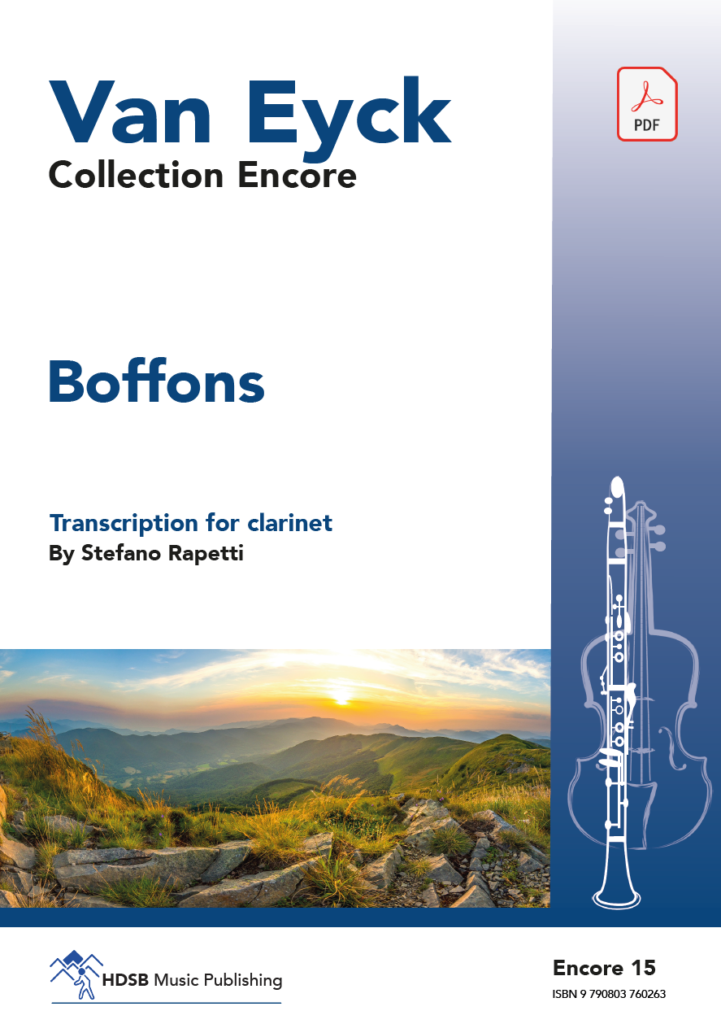 Jacob van Eyck (1590 – 1657), a blind musician and member of the Dutch nobility class, published his unique and monumental work, "Der Fluyten Lust – hof," to the delight of all recorder lovers, in 1644; It consists of 143 series of variations (or rather "diminutions," i.e., divisions of notes by melodic flourishes with smaller and faster values) on themes from various sources, from liturgical psalms to fashionable dances, and is a unique and indeed iconic work in the history of literature for solo wind instrument.
The "Boffons" theme, in its refreshing simplicity, consists of a succession of arpeggiated chords — which can also serve as an accompanying bass for all subsequent variations — decreased now by leaps, now by joint degrees, in a crescendo of speed and buffoonery.
In this transcription for clarinet in B-flat, or preferably for piccolo clarinet in E-flat (closer to the soprano recorder in brilliance and tension of sound), I wanted to add some repetitions (of the theme and variations 1, 2 and 3) and a cadenza, suggesting winking and comic theatrical effects, in keeping with the spirit of the piece.
Stefano Rapetti
You may be interested in: