La Campanella de N. Paganini (transcription pour saxophone soprano)
N. Paganini
La Campanella
(transcription pour saxophone soprano)
Encore 16
Released date: 2023
ISBN 9 790803 760270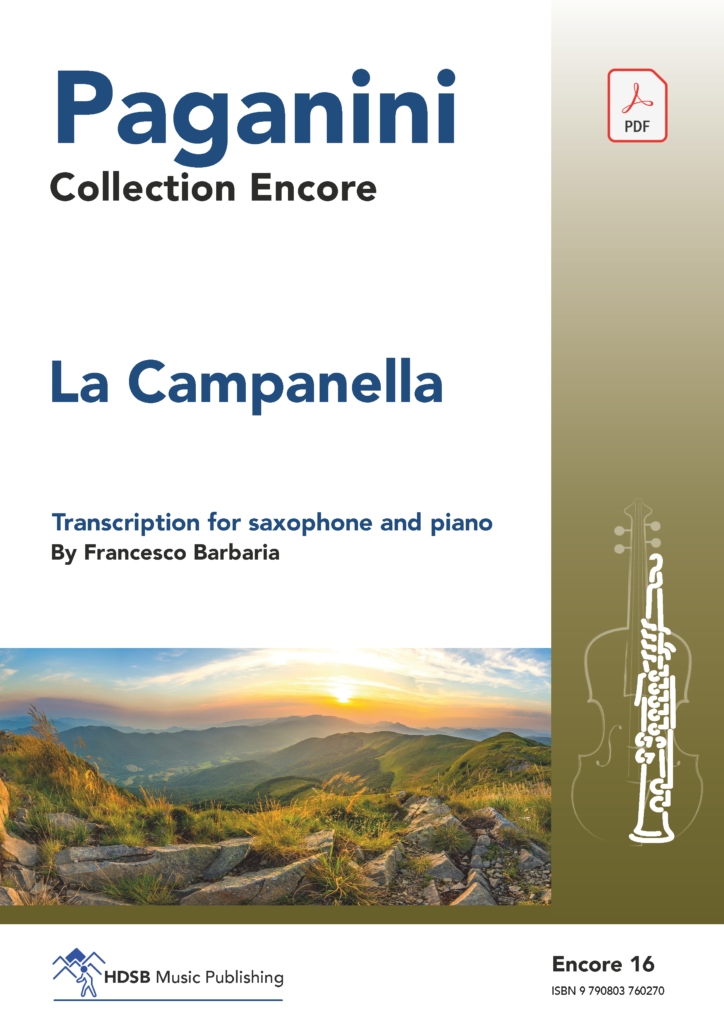 (uniquement en anglais)
The "24 Caprices for Solo Violin" were composed by Niccolò Paganini in the early 1820s and were first published between 1820 and 1827. One of the most renowned pieces of this collection is "La Campanella" (The Little Bell), which is considered a virtuosic and challenging work for the solo violin.
Franz Liszt, one of the most renowned composers of the Romantic era, transcribed "La Campanella" for piano. The piano transcription features the same technical demands as the original violin piece, including rapid arpeggios, complex harmonies, and intricate fingerwork. It is the third and final movement of Liszt's "Grandes études de Paganini," a set of six études based on themes from Niccolò Paganini's 24 Caprices for solo violin. The transcription was composed between 1838 and 1851 and was published in 1851. It is widely considered a pinnacle of piano virtuosity, and continues to be a favorite among pianists and audiences alike.
This piece has also been transcribed for a variety of other instruments over the years, such as saxophone by Francesco Barbaria. This version for saxophone is a true test of a musician's skill and dexterity, as it requires a high level of technical proficiency and musicianship. Barbaria has masterfully adapted the original violin version for the saxophone, capturing the spirit and virtuosity of the original work while also adding his own unique touch. The transcription for saxophone maintains the rapid arpeggios, complex harmonies and intricate fingerwork that make the original version so challenging and beautiful. This piece is a must-have for saxophonists, and is sure to delight audiences with its virtuosity and musicality.
Frédéric Matagne
Vous pouvez être intéressé par :